WEDDING PHOTOGRAPHY WITH PAXTON PORTRAITS – EXPECT SOMETHING REMARKABLE!
I am absolutely passionate about wedding photography! My wife and I own and operate Paxton Portraits. I have been a photographer in the Seattle area for over 20 years and love working with clients to create extraordinary images that captures their unique personality and style. My wife handles many of the little details that come with owning a small business. Our office and studio are located in Marysville, Washington. Although we travel for weddings throughout the entire Puget Sound region, we love working with couples planning their wedding in the Marysville, Everett, Lake Stevens and Arlington areas.



PRICING SIMPLIFIED
We believe that every couple should have start-to-finish coverage of their wedding. We also think that you shouldn't have to wade through a million options trying to figure out how to stay on budget. We offer several comprehensive wedding packages that fit most budgets. Our packages start at $1900 and includes secure online proofing, a beautiful Sweetheart Wedding Album and archival quality prints. When you feel ready, contact us by telephone or email and tell us a little bit about your wedding – we would love to chat with you!


EXCEPTIONAL IMAGE QUALITY
All of our images are carefully and creatively hand processed. Although we capture everything in vibrant color, we love processing duplicate versions of our favorite shots. This may include black and white, cyanotype, duotone, sepia and more! We can even give some of your images an analog, cinematic treatment reminiscent of old Hollywood movies. The best part is that you don't have to give up the color versions if you want to try something different. Our unique processing style and detailed image quality is what separates us from other wedding photographers. Just let us know what style you prefer and we will make it happen for you!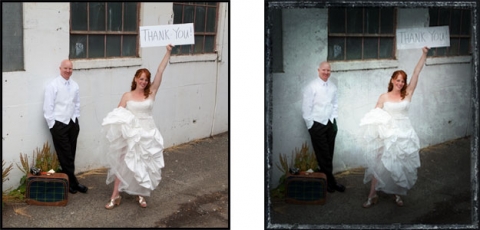 SECURE ONLINE PROOFING
Our images are made available to you for viewing through a secure, easy-to-use proofing gallery. You will receive a passcode to access your images and are free to share it or keep it restricted to close friends and family. Take a moment to explore our online proofing system showcasing a recent wedding. Click over to the proofing page (here) and enter "wedding sample" into the passcode box.


COPYRIGHT RELEASE AND A THUMB DRIVE OF ALL THE IMAGES
Some wedding photographers choose to hang onto to all the digital images – making you pay a premium if you want to purchase them. We take a completely different approach. All of our clients receive a customized thumb drive of all the final proofs taken at their wedding along with a copyright release letter. We don't watermark the images either. If that weren't enough, we even provide our clients with smaller versions of all the images so that they can quickly share them on Facebook and email them around to friends and family!



ENGAGEMENT SESSION
An engagement session is $299. This includes the session as well as (8) 4×6 prints, (8) 5×7 prints, (3) 8×10 prints and (2) 11×14 prints. Additionally we include a secure web gallery to view and share your images and a disc containing email friendly images taken from the session so that you can send them to friends and family or share them on your Facebook page (a disc of the high resolution images can be purchased separately). All of our photographs are professionally printed on archival quality paper and guaranteed to last a lifetime.

Note: Scheduling an engagement session with us is a great way to determine if we are a good fit to photograph your wedding. If you do decide to have us photograph your wedding, we provide a $100 credit toward your wedding package. We will also give you the high resolution images from your engagement session at no additional charge.
SWEETHEART WEDDING ALBUMS – (PDF version)
A beautiful Sweetheart Wedding Album is included with each of our wedding packages. Our albums are available in three classic sizes (8″ 10″ 12″) and seven gorgeous colors. Albums are wrapped with 100% full-grain, natural leathers or linen with a binding that lies completely flat making it a cinch to show off your stunning images. Images are printed edge-to-edge on Fuji Crystal Archival 2mm thick pages. Colors include: Classic Black, Lustrous Brown, Urban Blue, Enchanting Green, Vibrant Red, Pretty in Pink and Delicate White. These babies are beautiful!





MINI SWEETHEART WEDDING ALBUMS
Mini Sweetheart Wedding Albums are tiny sized versions of our full size albums! Mini Sweethearts are 4″x4″ and make wonderful gifts for family and friends!


AVAILABILITY
We are available for a limited number of weddings each year. Feel free to contact us when you are ready – we would love to chat with you!