UNIQUE SENIOR PORTRAITS
Are you looking for unique senior portraits that fit your personality? We love working with seniors to create images that reflect their individual style. Senior portrait sessions take place in grungy alleys, around old buildings, and in beautiful outdoor locations! We specialize in environmental portrait photography.




ALL INCLUSIVE PRICING – (PDF version)
We don't dangle ridiculously low session fees just to require you to purchase hundreds of dollars in prints later on. We also don't hide our pricing. Instead we offer an all inclusive senior portrait package for $299. No pressure to buy more – just the straight deal. Our senior portrait package includes:
Your Portrait Session: Choose one of our favorite locations. Portrait sessions typically last 1-2 hours. We guarantee that you will have over 100 final proofs to choose from!
Hand Processed Images: All of our images are carefully inspected and hand processed to ensure you look amazing! In addition to that, we whiten teeth and remove skin blemishes from any of the images you decide to have printed.
Online Proofing: Approximately 7-10 days after your session, all of the images from your session will be available in a password protected proofing gallery. Our online proofing system is also a secure shopping cart. Anyone with access to your gallery can also purchase prints and have them shipped directly to their door. This means that you don't have to worry about out-of-state family feeling left out or making sure they get prints. Share your images with friends and family or keep them to yourself – it's totally up to you!
Image Folio: All of our clients receive a nine image folio of their favorite pictures from the session.
Professional Prints: Along with the folio, you're invited to pick (48) wallet size prints and (2) 8×10 prints to share with friends and family. All of our images are professionally printed on archival paper and guaranteed to last a lifetime. Take a look at our online order form for more details.
Yearbook Photo: Let us know if you need a yearbook photo and we will send it to you so that you can forward it along to your school.
Email Friendly Images: We provide you with email friendly versions of the images so that you can share them with friends and family online (e.g. Facebook, Twitter or your favorite social networking site). The high resolution images and copyright release to print them anywhere you wish can be purchased separately.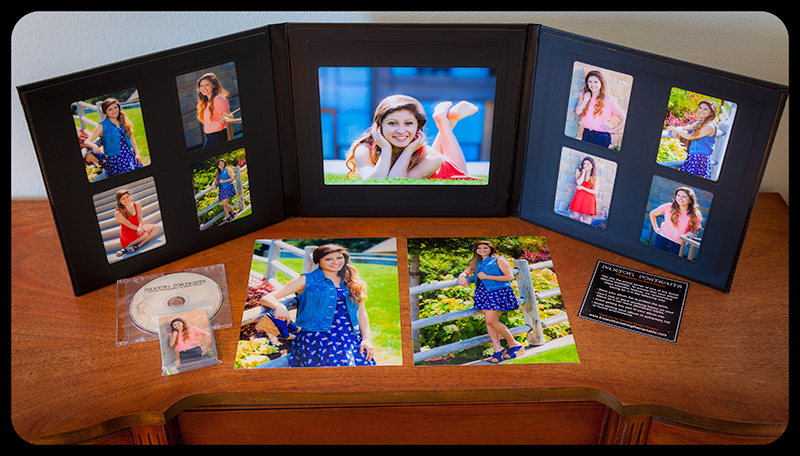 YEARBOOK PHOTO INCLUDED
Don't settle for a mediocre high school yearbook photo. We retouch your yearbook photo so that you look amazing at no additional cost. This includes making sure that your skin tone is rich and beautiful, removing blemishes and whitening teeth. We will prepare your yearbook photo and save onto a disc ready for you to deliver to your school or email it for you. Just let us know what you need and we will make it happen.
YOUR LOCATION OR OURS – (PDF version)
We love shooting senior portraits in non-traditional places! Tell us about your favorite spot or pick one of ours. Several of our favorite locations can be found here.
SEATTLE UPGRADE
Get ready for an amazing senior portrait experience! Schedule your senior portrait session in Seattle at Gas Works Park (overlooking the Seattle skyline), Olympic Sculpture Park (overlooking the water) or Seattle Center (near the EMP Music Museum). Senior portrait sessions in Seattle are an additional $149 and come with all the high resolution images (normally an extra $100) and (16) additional wallet sized prints making this a fantastic deal! Contact us for more information.
UNCOMPROMISING IMAGE QUALITY
Every image is carefully and creatively hand processed. We take great care to make sure your yearbook photo looks nothing short of amazing. Although we capture everything in vibrant color, we love processing duplicate versions of our favorite shots. This may include black and white, cyanotype, duotone, sepia and more! We can even give some of your images an analog, cinematic treatment reminiscent of old Hollywood movies. The best part is that you don't have to give up the vibrant, color versions if you want to try something different. When we are finished, you will have over 100 images to choose from. Compare our image quality with the big box studios!
Our detailed image quality and affordable pricing are what separates us from other senior portrait photographers. Just let us know what style you prefer and we will make it happen for you!
SECURE ONLINE PROOFING
Our images are made available to you for viewing through a secure, easy-to-use proofing gallery. You will receive a passcode to access your images and are free to share it or keep it restricted to close friends and family. Check out our online proofing gallery showcasing a couple of our latest senior portrait sessions. Click over to the proofing page (here) and enter "senior girls" or "senior guys" into the passcode box.
BRING FRIENDS AND SAVE $25 EACH!
Bringing a friend to your senior portrait session can be a lot fun! Combine your session with your favorite pal and you each save $25! Sessions must be scheduled together and at the same location to qualify.
SPLIT SESSIONS
Occasionally we are asked to split a senior portrait session between two dates. The most common reason for this is to capture a yearbook photo in the fall (to meet the school's deadline) while completing the rest of the session the following spring. We are happy to schedule your senior portrait session for two different mini sessions (on two different days) – just let us know if this is something you are interested in. A split session is an additional $100.
ADD A FAMILY PORTRAIT SESSION FOR $125
Combine a family portrait session with your senior portraits and save over 50%! Our family portrait package is ordinarily $249; however we will reduce it to $125 when you combine it with a senior portrait session! Everything in our family portrait package is included: (8) 4×6 prints, (8) 5×7 prints, (3) 8×10 prints and (2) 11×14 prints. Let us know if you're interested in adding a family portrait session and we will give you more details.
PAYMENT
We will send you an invoice once you decide on a date and time for the session. You are welcome to make payment securely online (here) or bring a check with you at the time of the portrait session. We accept cash, checks and credit cards.
RESERVE YOUR SESSION
We can schedule your senior portrait session at a location of your choice or you are welcome pick one of our favorite places. We schedule portrait sessions on Fridays, Saturdays and Sundays – send us a couple possible dates that work best for you and we will schedule it!